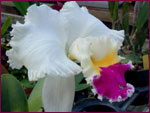 ORCHID EXPRESS & LEASING is owned and operated by Lee Murdock. Lee started working with orchids in the early 1990's at a large, established orchid shop where she worked off and on and later managed. Lee is a member of the Houston Orchid Society, the American Orchid Society, SWROGA (South West Regional Orchid Growers Association), the Allied Florists of Houston, the Texas State Floral Association, and the Museum District Business Alliance. Lee was the 2005 Newcomer Chairman for the Houston Orchid Society.


ORCHID EXPRESS & LEASING evolved in June of 2004. You will usually see Lee Murdock working hands on, 6 days a week.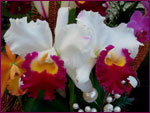 Lee gives speeches to garden clubs about the care of orchids at no charge; she just brings the live plants for the show-and-tell and then sells them. Sometimes Lee is known as the 'Orchid Doctor' as she tells everyone, "I am here for free information. Just bring by your victim and in 30 seconds I can diagnose your problem."
ORCHID EXPRESS & LEASING has orchid plants for sale, lease or even rental for a day. ORCHID EXPRESS & LEASING offers repotting services, arrangements of orchid plants, deliveries and we will organize your special event!