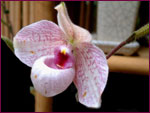 We carry many varieties of orchids for sale for the hobbiest and their friends. We have orchids for lease, rental for a day, commercial accounts programs and even offer our 'orchid-of-the-month club. I'm sure you will find a special present whether it be for you or someone special. Orchids are a gift to give someone who has everything. Plus it will always bloom the same time of the year for that special holiday.
LEASING PROGRAMS
Individual Leasing Program consists of buying the first plant at regular price; keeping the orchid till it finishes blooming (anywhere from one month, to four months, depending on the plant). As soon as they finish blooming, they should be promptly returned. At that time you will receive a 20% credit of what you had spent towards your next purchase, whenever you wish to use it.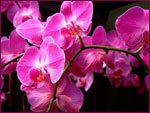 SPECIAL EVENT LEASE
Special Event Lease is specially designed for a one day occasion as in galas, luncheons, business events and weddings.
COMMERCIAL ACCOUNTS PROGRAM
Commercial Accounts Program is custom designed for hotels, restaurants, offices and other establishments who are wishing to enhance their properties with fresh blooming orchids on a regular basis.
JOIN OUR ORCHID-OF-THE-MONTH CLUB!

Choose between 3,6 or 12 month programs, and they don't have to be consecutive months. You can specify the exact months or dates you want your orchids shipped.
You can also choose the exact plants you want (subject to availability) or leave it to our orchid specialists.
Each plant come in our classic wicker basket, however alternative containers are available for an additional charge.
3 MONTH PLAN
Standard Select

$195.00

Grand Select

$240.00

6 MONTH PLAN
Standard Select

$390.00

Grand Select

$480.00

12 MONTH
Standard Select

$770.00

Grand Select

$950.00
Note: Grand Select indicates greater number of buds, flowers and flower spikes